Dr. John Burke | Dr. Hadeel Alniemi
---
Dr. John Burke
Transforming Lives: One Person and One Smile at a Time
Orthodontics, to me, is a way of serving my community. I grew up in the Beverly Neighborhood and have always called Chicago home. Nothing makes me happier than encountering a familiar smile on the street: it is amazing to be in a profession where I have the opportunity to make a lifelong, positive change in each patient's life!
Growing up, I enjoyed science and problem solving; I am also creative and detail oriented. Becoming an orthodontist meant I was able to bring my interests and abilities together, and in doing so help people lead healthier, happier lives.
One of the greatest rewards of my profession, and one I was not initially aware of, is the time I get to spend with patients. Each person starts orthodontics with the goal of straighter teeth and an improved smile. Throughout treatment, I see the person change – sometimes from visit to visit – as they see the visible change in their appearance. People become more comfortable with how they look, which increases their self-esteem and boosts their inner confidence.
By the time treatment concludes, each patient has a smile they truly love: a smile that is functional, pleasing, and will last a lifetime!
Education
Bachelor of Science in Chemistry, Indiana University
Bachelor of Science in Dentistry, University of Illinois
Doctorate of Dental Surgery, University of Illinois
Master of Science, University of Illinois
Certificate, Specialist in Orthodontics, University of Illinois
One of the most exciting aspects of the orthodontic specialty is the ongoing research that leads to new technologies and techniques. While the mechanics of tooth movement are well known, there are now many options available to achieving the same ideal results.
I have been practicing for 20 years and in that time how I practice – the diagnostic technologies, treatment planning, and methodologies – have all evolved. By staying at the forefront of these changes, taking courses, attending meetings and lectures, and participating in study groups, I constantly learn and bring that knowledge back to my practice and the care I offer.
Professional Memberships
American Association of Orthodontists
Midwest Society of Orthodontists
Illinois Society of Orthodontists
American Dental Association
Illinois State Dental Society
Chicago Dental Society
Beyond the Practice
My family and I live in the same neighborhood where I grew up. It's a good feeling to be raising our two girls and two boys in such a wonderful community!
My wife Tracy and I are very involved in our children's activities and school, as well as our parish. I enjoy coaching youth basketball and volunteering for local charitable organizations that keep our community stable and thriving. Most of my weekends are spent coaching or attending and supporting my kids' sporting events and other extracurricular activities.
In my free time, in addition to coaching I also play basketball and love water sports: swimming, waterskiing, wakeboarding, and jet skiing. I am also a huge fan of Chicago sports, especially the Bears and White Sox!
---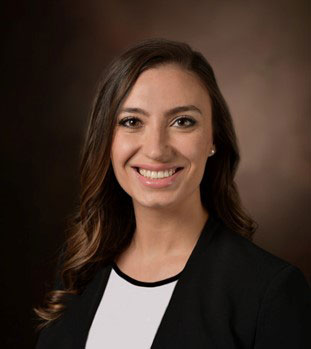 Dr. Hadeel Alniemi
Dr. Alniemi is a Board-Certified Orthodontist and a member of the American Dental Association, the American Board of Orthodontics, and the American Association of Orthodontics. She obtained her dental degree at the University of Minnesota School of Dentistry, then practiced as a general dentist in Minnesota before moving to Colorado for her Orthodontics Specialty Residency training. Now she has made her way back to the Midwest and is so excited to be a part of the Burke Orthodontics team!
"Orthodontic treatment can change a person's life in amazing ways, and I know this firsthand! As a kid, I never used to smile because I was embarrassed by my crooked teeth, but getting braces changed everything. I saw incredible changes in my teeth over the course of treatment, and the results were amazing. Eventually, you couldn't get me to stop smiling!
Orthodontics is truly life changing for people of all ages with all types of orthodontic needs. Dr. Burke and I are committed to evaluating each patient's specific wants and needs and creating a custom treatment plan to deliver the best esthetic and functional smile possible for each individual patient. Everybody deserves to have a smile they love, and we would be honored to help you get yours!"
When she's not working hard perfecting smiles, Dr. Alniemi enjoys a variety of activities including baking and cake decorating, ice skating, biking, photography, and gardening. She enjoys traveling the country to visit her family and has three nephews that she loves to spoil endlessly. She also likes trying new restaurants too, so be sure to give her your suggestions for the Chicagoland area!