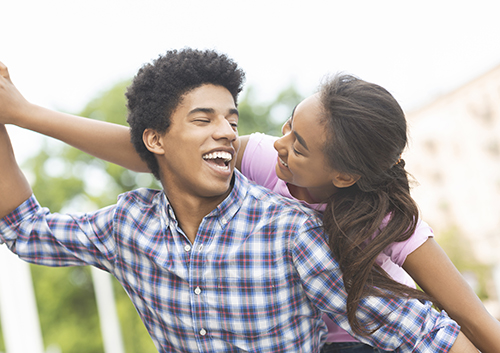 Your trusty manual toothbrush has been with you from pre-school through high school—well, obviously not the same manual toothbrush, because that would be seriously unhygienic—but it's the kind of toothbrush you're used to and comfortable with.
Now, though, you're off to college, and your lifestyle will be changing. Late night study sessions complete with study session snacks. Getting caught up in a project and making dinner from dorm vending machines. Grabbing fast food on the way to the practice field, or work-study job, or evening class. You get the point—meals can be hectic, unscheduled, and less than tooth friendly.
And if you're wearing braces or aligners, you know you need to keep on top of brushing more than ever. It's challenging to brush away cavity-causing plaque when it sticks around brackets and wires. And with aligners, teeth don't benefit as much from the constant cleansing action of saliva, so it's really important to brush away plaque and food particles before you replace the aligners after eating.
Maybe it's time to consider an electric toothbrush. After all, anything that can make your life easier and more efficient during busy college days deserves a spot in your dorm room.
Electric Brushes Are Effective
The most important reason to switch to an electric toothbrush is its effectiveness. Several studies have shown that regular use of an electric toothbrush leads to a marked reduction in plaque, that bacteria-filled film which sticks to the teeth and leads to cavities and gingivitis. And it's really no surprise that an electric brush can out-perform a manual brush.
Electric toothbrushes offer several design options, from oscillating/rotating brushes to oscillating/rotating/pulsating models to brushes using sonic vibration technology. What these technologies all have in common is the ability to remove plaque far more efficiently than we can on our own, because electric brushes provide the equivalent of thousands and even tens of thousands of brushstrokes per minute, compared to the hundreds we can achieve by hand.
There might be a bit of a learning curve to discover how to use your brush around wires and brackets. Ask us for the best method of using an electric brush with your braces, and check out brush heads specifically designed for orthodontic work.
If you use buttons with aligners, electric toothbrushes should be safe to gently clean around the buttons to remove built-up plaque. It's usually best to stick with a manual brush for cleaning your aligners themselves—we're happy to give you your best cleaning options, no matter which brush you choose.
You know by now what your brushing habits are like. If you tend to be a bit cavalier with your brushing and flossing, make sure you set yourself up for success. Because you have better things to do during semester breaks and summer vacations than visiting John Burke!
Electric Brushes Can Make Life Easier
Several of today's electric brushes come with options designed to do more than simply remove plaque. They can let you know if you've brushed for the recommended two minutes and remind you when it's time to replace the brush head. They can even alert you if you're brushing too hard, which is especially important when you're wearing braces.
Want more from your electric brush? Some models offer apps that can map out just where you've brushed, in case there are a few spots that often get overlooked. Or provide different brushing modes for daily cleaning, deep cleaning, whitening, and more. Or come with a travel case that can recharge while you're busy exploring the world—or going home for a visit.
In the end, it's up to you. Do some independent study and research the toothbrushes that will give you the best results for your individual brushing habits. You might not need or want a brush with all the technological bells and whistles.
If you're comfortable with your manual brush and you get good grades when you visit our Frankfort, IL office, stick with it. But if you think you might benefit from the ease and efficiency of an electric toothbrush, if an electric toothbrush makes your teeth and gums healthier and your smile brighter, that's extra credit worth pursuing.